"to benefit Boston Terrier Rescues"
Grand Prize: Handmade Crochet Afghan (6'x5')
Made and Donated by Carmen Santiago
Grand Prize: (# 1631) Debbie McClonohen (Milboro, TN) (sold by Wayne)
---
1st Prize: Deluxe Dog Gift Basket
Contents of basket donated by three members. Jodi LeMoine: a Handmade Winnie the Poo Blanket; Cindy Kohn: Special Color Edition BARC Cookbook, 2 Peace Beanie Babies, 1 Misty Beanie Buddy; Kathy Hargis: BT Handpuppet and bag of treats (not shown in picture).Isabella : 15oz box of Milk Bones and one 6oz package of Chicken Drumsticks treats also not shown. Edalee Handley: 2 Large Squatters Plush Toys, 1 Small Squatter Plus Toy,1 2.5 inch Puzzle Ball with Bell. Picture taken by Edalee.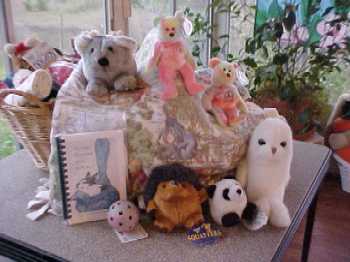 (#1432) 1st Prize: Nicole LaMonica (Pleasantville, NY) (sold by Michele)
---
2nd Prize: $50 Gift Certificate to Petsmart
Donated by Dandy, Lil Guy and Bow Bow Foran
(#1316) 2nd Prize: Darrell Oliver (Georgia) (sold by Ella)
---
3rd Prize:BT Fabric Bulletin Board(24"W x 18"H)
Maple Ulrich, BARC representative from
Denver, PA, proudly presents a one-of-a-kind
bulletin board made especially for BARC by
her "Aunt" Diane Funk. Notes can either be
slipped into the black ribbon to be held in place
or push pins can be used.
The ribbons are secured with black buttons
and beige dog bone buttons.
donated by Tracey L. Ulrich
(#1039) 3rd Prize: Mary Conlon (Oswego, NY) (sold by Tami)
---
4th Prize: BT Circle of Friends Votive
The resin votive holder measures 3.5" high and 6" in diameter.
Donated by Markey O'Connor
(#1054) 4th Prize: E. Krish (Bronxville, NY) (sold by Kathy Maffucci, a friend
---
The Raffle Drawing was held Saturday, May 10, 2003, at Leptondale Nursery in Newburgh, NY at 10:30 a.m.
by Mary and Bob La. Mary is head of the Newburgh Rose Club and did the honors with her husband Bob.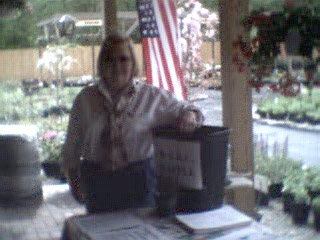 The raffle raised $1,781 for B.A.R.C. A heartfelt THANK YOU to all who participated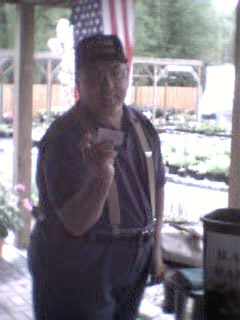 ---



BARC RAFFLE
% Michele Foran Treasurer
920 Pelhamdale Ave.
Apt#C2A
Pelham Manor NY 10803

The deadline for all raffle ticket stubs is May 3, 2003
Drawing will be held on May 10, 2003. .




How BARC Fundraising Helps
HOME


Triple backgrounds PUNKIE