FOSTERING R.BARCKLEY
R.Barckley our goodwill rescue BT and his Sister R. Rosie will be traveling the globe. Staying with Foster families. to raise money for rescue as well as maybe learning about different area's. R.Rosie will be traveling over sea's while Barckley hits the USA. We will be posting pictures of their adventures.

To Host our little rescues it's $5.00 for a 2 week stay plus traveling expenses (postage). Pictures and activities are up to the foster families.He has a travel log with him so feel free to write some things down for him. Besides just sight seeing , they can go to schools or dog shows or fairs to teach about rescue, spaying/neutering or Bostons. Both are excellent spokes dogs.If you want to Host you may contact R.Barckley's travel agent for Payments and other information. Payments can also be made through PayPal

We will gladly scan any pics for the site. Host will be responsible for help writing the information for his visit site .
This idea was inspired by Chris who wanted to send a bear around for her pre school children to learn about different area's and also the Travels with Curley


R.Barckley departed Harrisburg Pa. Aug. 25,2000 on the first leg of his cur run headed for Idaho the Home of the POTATO and aunt Deb, where he will be taken to the vet for "tutoring" LOL and a checkup,shots etc. He was very excited wearing his BARC Tee shirt .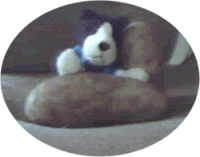 Beat these Potato's Auntie Deb,,,LOL!!!
R.Rosie will be sailing to Australia to visit with Auntie Jean and Potch . Hopefully with the Olympics going on over there she'll have a great learning experience to show us .